SportKraft Axle Barbell
$104.90 – $139.90
SportKraft Axle Barbell is a 2″ HEAVY DUTY thick non bearing bar shaft bar for all types of training! 2 sizes available.
Description
SportKraft Axle Barbell
Free Shipping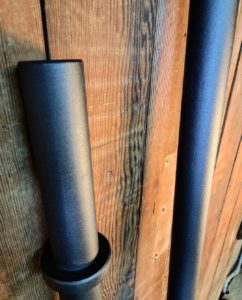 When It Comes To Getting Strong – Variety is Key.
Enter the SportKraft Axle Barbell.
With the SportKraft Axle barbell you will definitely get the variation you need for your workouts and for getting stronger. This is a great tool for adding variation and challenging your body in new ways on classic lifts. Try it on bench press variations, overhead movements, rows, pulls, cleans and more!
Benefits include:
Promotes greater grip and wrist strength.
Adds new neuromuscular challenge to your training
Reduce stress on your nervous system
Stimulate more muscle fibers in your forearms, hands, fingers and upper arms
Increase joint stability
Distributes weight more evenly to incorporate more muscles in the upper body

A common theme when developing our bars at SportKraft is that we like to take them to the next level.
Note the weight of The SportKraft Axle Bars. The 5ft model weighs in at 30lbs and the 7ft model weights in at 35lbs. Compared to other Axle Bars on the market with average weight of a 25lb 7ft model. When designing our Axle Bars we went with solid steel sleeves instead of a hollow tube. This adds weight, strength, safety and durability.
No need to worry when Strongman Training, adding heavy loads or dropping the SportKraft Axle bar because it has solid steel sleeves – not hollow.
Another feature to note is a full 50mm shaft. No more problems with plate holes being larger than the sleeve on your Axle Bar. The full 50mm shaft and sleeves allows for a nice fit for all standard 50mm (2″)  weight plates on your bar – rather than the plate hole being larger than the bar sleeve. This also allows for a snug and perfect fit for your collars – so your plates stay where they belong. On the bar.
The ultimate lifting experience is all in the details!
The bar weight of 35lbs makes it a great tool to have for athletes of all sizes. If you want to go with something lighter than the standard 45lb bar – this is great solution and tool to have in your arsenal for strength training.
A durable black powder coating gives the SportKraft Axle bar a clean finish
We have two sizes available! One is weighing ~30lbs and the second option is  weighing ~35lbs. See Specs for specific measurements below!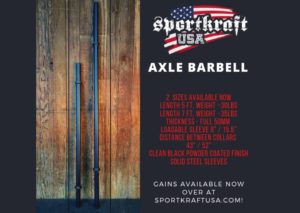 *Please note that any metal-to-metal contact with the coated sleeves (such as adding and/or removing plates) may cause wear on the finish over time.*
Looking for more variety in the gym? Check out our SportKraft Resistance Bands and add endless variation to your workouts today!
Forearms tired after working with the Axle Barbell? Try out our EZ CURL BARBELL. The curved handle is designed to be easy on the forearms and wrists. 
SportKraft Axle Barbell – Specs :
2 Lengths/Sizes Available
Length  – 5 ft, Weight ~30lbs
5ft – Loadable Sleeve 8″
5ft – Length Between Sleeves 43″
Length – 7 ft, Weight ~35lbs
7ft – Loadable Sleeve 15.5″
7ft – Length Between Sleeves 52″
Thickness – Full 50mm (~2″)
Suitable For All Movements
Solid Steel Sleeves
Black Powder Coated Finish
Additional information
| | |
| --- | --- |
| Weight | 15.8 lbs |
| length | 4.9ft, 6.9ft |