SportKraft Bar and Bumper Plate Tree
$185.90
With the SportKraft Bar and Bumper Plate Tree store plates off the floor and out of the way. Also has room for two bars maximizing use of your space
In stock
Description
SportKraft Bar and Bumper Plate Tree
Free Shipping
SportKraft Bar and Bumper Plate Tree is extremely durable, practical and a compact and a great way to store your bars and plates.
What's great about this Plate Tree is that there is enough space between the pegs to fit full size bumper plates on all 6 pegs! Store all of your bumper plates, 45s or any other plates on this one tree without them rubbing together.
Designed with top quality in mind, this weight tree is suitable for professional, home or commercial use and is a great space saver for all types of workout areas.
Weighing only 39lbs the SportKraft Bar and Bumper Plate Tree has a huge weight capacity of 1102lbs!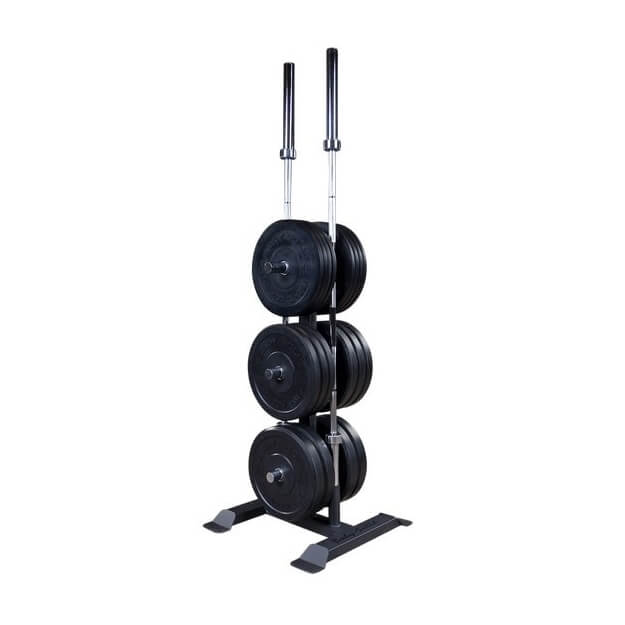 Finished with a durable and great looking black powder coating this rack looks nice in your gym while still being tough enough to handle heavy use.
No more storing weights on the ground or against the wall or machines. This rack is meant for use by all lifters and facilities from home gym owners to large training halls and everything in between this plate rack is up to the task.
Is your plate rack empty? Click here to fill it up with our SportKraft line of Weight Plates!
No bars to store? Check out our line of SportKraft Power Bars!
SportKraft Bar and Bumper Plate Tree – Specs:
For home or commercial use
Suitable for standard 50mm plates
6 pegs for plate storage
2 spaces for barbell storage
23.6″ between storage pegs
Weight 39lbs
Weight capacity 1102lbs