SportKraft Basic Barbell
$220.00
SPORTKRAFT BASIC BARBELL is high-quality, hard chrome coated basic barbell 20kg for strength and general
training. The ultimate all purpose barbell for home and commercial use for regular exercise!
In stock
Description
SportKraft Basic Barbell
Free Shipping
Traditional hard chrome barbell for strength, weightlifting and functional training.
SportKraft Basic Barbell is unlike other "basic bars".. . It was designed as our general multi-purpose bar for any home gym or commercial facility – but just because it was made as our "basic bar" we have still made our most basic bar with the highest standards.
This is the bar for hard and heavy exercise that doesn't demand specialty bars and competition specific stats. The perfect addition to your home gym and for regular training. 
This bar can also be an excellent choice for strength athletes to have on hand in the gym for accessory lifts such as corner rows and movements in which you don't want to use your specialty bars.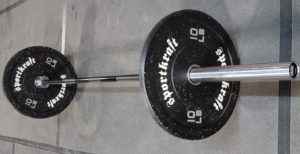 The SportKraft Basic Barbell is designed to offer an affordable option for home gyms, weekend warriors and commercial gym use. Despite the affordable price tag, we have not skimped on the quality.
The SportKraft Basic Bar is made with a high quality steel alloy, official standard measurements, featuring a black hard chrome shaft and silver chrome sleeves. The dimensions are in accordance with official requirements. The stiffness is between a powerlifting and weightlifting bar making the bar suitable for all types of movements. 
Not meant for competitive use, but sturdy enough to perform regular exercises including squats, presses, deadlifts and Olympic lifts alike.
A high quality multi-purpose bar for versatile training.
Check out our line of Multi-Purpose Bars HERE!
Specs:
Weight: 45lbs

Diameter: 28.5mm

Length: 86.5 inches

Bronze bushing

Sleeve diameter: 50mm

Load capacity: 800lbs

Tensile strength: 165000 PSI