Utility Flat Bench
$159.90
This Utility Flat Bench is an extremely durable and multi functional flat bench press bench that is a safe, simple and effective tool for nearly any exercise program
In stock
Description
Utility Flat Bench
Free Shipping
This Utility Flat Bench is a multi functional flat bench press bench that can be used for a variety of exercises that allows you to perform full body and isolated movements to target the muscle groups in which you wish to develop.
With a weight capacity of 800lbs this bench is durable made with a heavy steel frame tubing and weighs 45lbs . Stable and supportive for any type of movements from bench pressing, pressing, triceps work, hip thrusters and the list goes on and on.
Its is made with and easy to clean thick vinyl upholstery and a heavy duty stitching to keep your pad secure and in good shape over time. A black powder coating finish protects the metal and gives your bench a nice clean and finished look.
Flat Benches are a safe, simple and effective tool for nearly any exercise program
Get yours and get stronger today!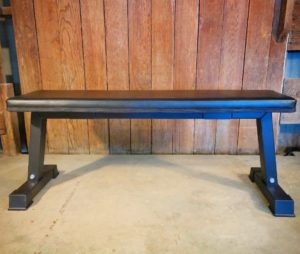 This Utility Flat Bench covers all the bases you need to get your workouts in and get stronger!
Utility Flat Bench – Specs
Weight 45lbs
Weight Capacity 800lbs
Bench Dimensions 47″ x 16″ x 18″
Pad Dimensions 47 x 12 x 2 1/4′
Easy to clean vinyl
Heavy duty stitching
Assembles in Minutes
Reinforced steel frame