SportKraft Basic Bumper Plate Set, 230lb/340lb
$429.99 – $615.99
FREE SHIPPING! Sportkraft Basic Bumper Plate Sets are made 100% of a high quality natural rubber and steel center. An old school classic suitable for all training!
Description
SportKraft Basic Bumper Plate Set, 230lb/340lb
Free Shipping
AVAILABLE NOW! 
SportKraft Basic Bumper Plate Sets are made with 100% dense natural rubber complete with a steel center ring these old school classic weight plates are ready for all types of training! Made with a standard 50mm center hole they fit all standard 50mm sleeve bars.
Made to with stand being dropped time and time again, these are a perfect choice for weightlifters and athletes performing weightlifting and CrossFit movements. Snatches, cleans, over head pressing, etc these plates are perfect for the job.
The natural rubber is more rigid and less flexible than the SportKraft Crumb Rubber Bumper Plates. However, the shock absorption on the SportKraft Basic Bumper Plate Sets  will still protect your floor from damage while dropping in training.
All SportKraft bumpers are made to official size with a 17.7″ diameter and 50mm center hole and are an excellent choice for weightlifters, CrossFitters, home gym owners and commercial facilities.
These classic plates are a simple and affordable option. A no nonsense bumper plate to get you in the gym and lifting in no time!
All SportKraft Basic Bumper Plate Sets are sold in sets of 230lbs or 340lbs.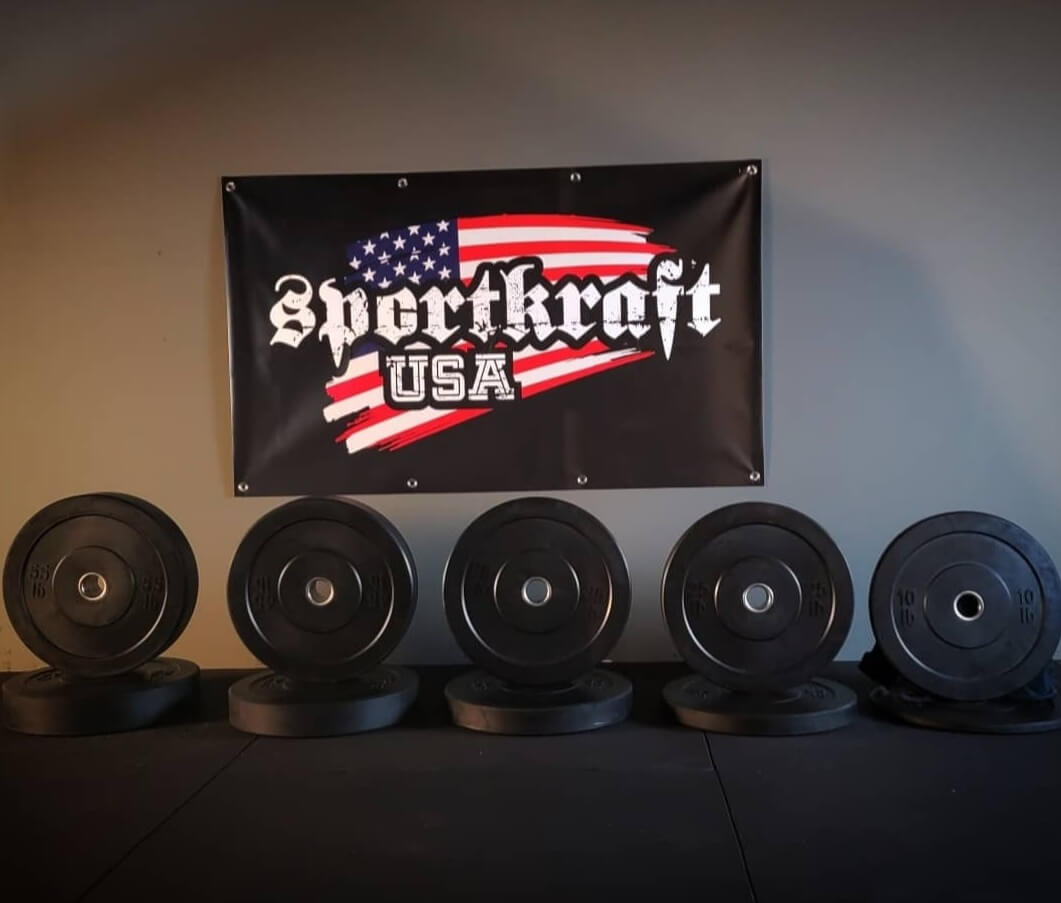 Sportkraft Basic Bumper Plate Sets – Specs:
100% natural rubber
Official 17.7″ diameter
Approx 50mm diameter hole
Hole reinforced with metal ring
Weight indicted on surface of plate
Color – Black
Sold in 230lb or 340lb sets
Bumper Plate Set 230lb includes 2 x 10lb, 2 x 25lb, 2 x 35lb and 2 x 45 lb plates
Bumper Plate Set 340lb includes 2 x 10lb, 2 x 25lb, 2 x 35lb, 2 x 45 and 2 x 55lb plates
| | | |
| --- | --- | --- |
| Weight | Width | Diameter |
| 10lb |  0.75″ | 17.7″ |
| 25lb | 1.75″ | 17.7″ |
| 35lb | 2.5″ | 17.7″ |
| 45lb | 3″ | 17.7″ |
| 55lb | 4″ | 17.7″ |
Additional information
| | |
| --- | --- |
| Weight | N/A |
| Weight Set | 230lb, 340lb |