Sale!
SportKraft Competition Bumper Plates
SportKraft Competition Bumper Plates are made with a high-quality natural rubber, a large steel center and are made to handle even the toughest use!
In stock
Description
SportKraft Competition Bumper Plates
Free Shipping
SportKraft Competition Bumper Plates are top of the line fully rubberized weight plates with a steel hub in the center, color coded and have been made and tested for professional and competition use. These plates meet the requirement of a very low weight tolerance under +/- 10 grams.
These plates, are made for competitive conditions and have been drop tested more than 30,000 times. Their steel hubs are precisely machined to the thickness of a standard 50.5mm barbell sleeve. Thanks to the meticulous machine work, the plates sit perfectly on your bar and do not sway and swing.
Due to the additional weight of the steel hub, this results in  a thinner bumper plate allowing you to stack big loads onto the bar. The hard and super dense rubber design minimizes bounce when these plates are dropped. This minimizes the impact on your barbells and overall shock to the plates.
The steel hub also makes the plates much more durable compared to the traditional metal ring on standard models. The steel hub on this plate has a large diameter  is a full 19.8cm (7.8in) in diameter.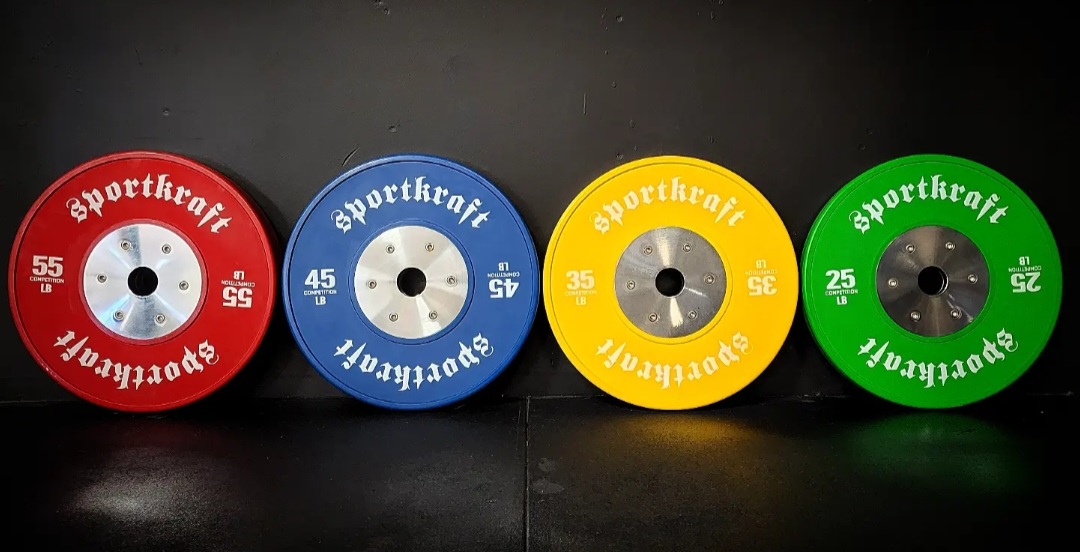 SportKraft Competition Bumper Plates are made with a high-quality natural rubber held to high standards. They are color coded according to competition standards and for ease of identification and fast plate selection when loading the bar.
The rubber is full color throughout the whole plate from the outside to the core.
The result is a great looking plate suitable for use in gyms, competitive federations that allow pound weight plates and are a great option for an at home set for lifters who want to ensure the weight on the bar is always accurate.
The size of the SportKraft Competition Bumper Plates is in accordance with the IWF standards and have official colors making it easy to identify the weights.
The large galvanized center hub is made of a co-molded steel collar securing it to the rubber and locks the bolts into place. The center hub gives the plate more resistance to large drops and also make it more stable. Manufacturing the plates in this way ensures that your hub is  locked securely into place and is safe against loosening over time and repeated use.
SportKraft Competition Bumper Plates are sold in a SET ONLY.
320lb set includes 2 of each plate between 25-55lb
Plate Sizes :
| | | |
| --- | --- | --- |
| Weight  | Thickness | Diameter  |
| | | |
| 25lb | 1.25 in | 17.7in |
| 35lb | 1.7 in | 17.7in |
| 45lb | 2.15 in | 17.7in |
| 55lb | 2.5 in | 17.7in |
For a great storage option – check out our Plate and Bar Storage HERE!
SportKraft Competition Bumper Plates – Specs :
Suitable for standard 50mm bars
Full color rubber throughout the plate
Diameter 45cm (17.7 in)
High-quality All natural rubber
Machined center hole 50.5mm
Large center hub made of stainless steel (19.8cm)
Weight tolerance +/-10g
Available in 25-55lb
Sold in a 320lb set only