Sale!
SportKraft Deluxe Powerlifting Combo Rack
SportKraft Deluxe Powerlifting Combo Rack is for heavy and competition use! Made with all international competition standards with no details spared!
In stock
Description
SportKraft Deluxe Powerlifting Combo Rack
Free Shipping
This Squat and Bench Press Combo Rack is designed with heavy lifting and ease of use in mind. Built strong with sleek and and professional details this rack delivers for the lifter, meet directors and spotters and loaders alike.
The SportKraft Deluxe Combo Rack is made with a wide and sturdy base and two adjustable steel uprights, a set of drop-in Safety Spotter Arms, and a removable bench with diamond tread spotter decks. Each component is secured with with tightening knobs for quick and easy set up and adjustability.
No tools are necessary for removing the bench press. It is fast and easy to convert into a squat rack simply by unscrewing the locking mechanisms.
Featuring a jack system the J-Cups are easily adjusted to accommodate lifters of different sizes eliminating the need to unload the bar between lifters. It is a quick and easy to adjust the height using the lever arms to raise and lower rack height. The telescoping tubes are complete with laser cut numbers which make fast and accurate rack height adjustments a breeze. This combo rack includes 4 machined pins that are used to set the upright height along with 2 additional machined pins that are used to set the height of your safety spotter stands. There is additional storage for your pins integrated into the jacks themselves.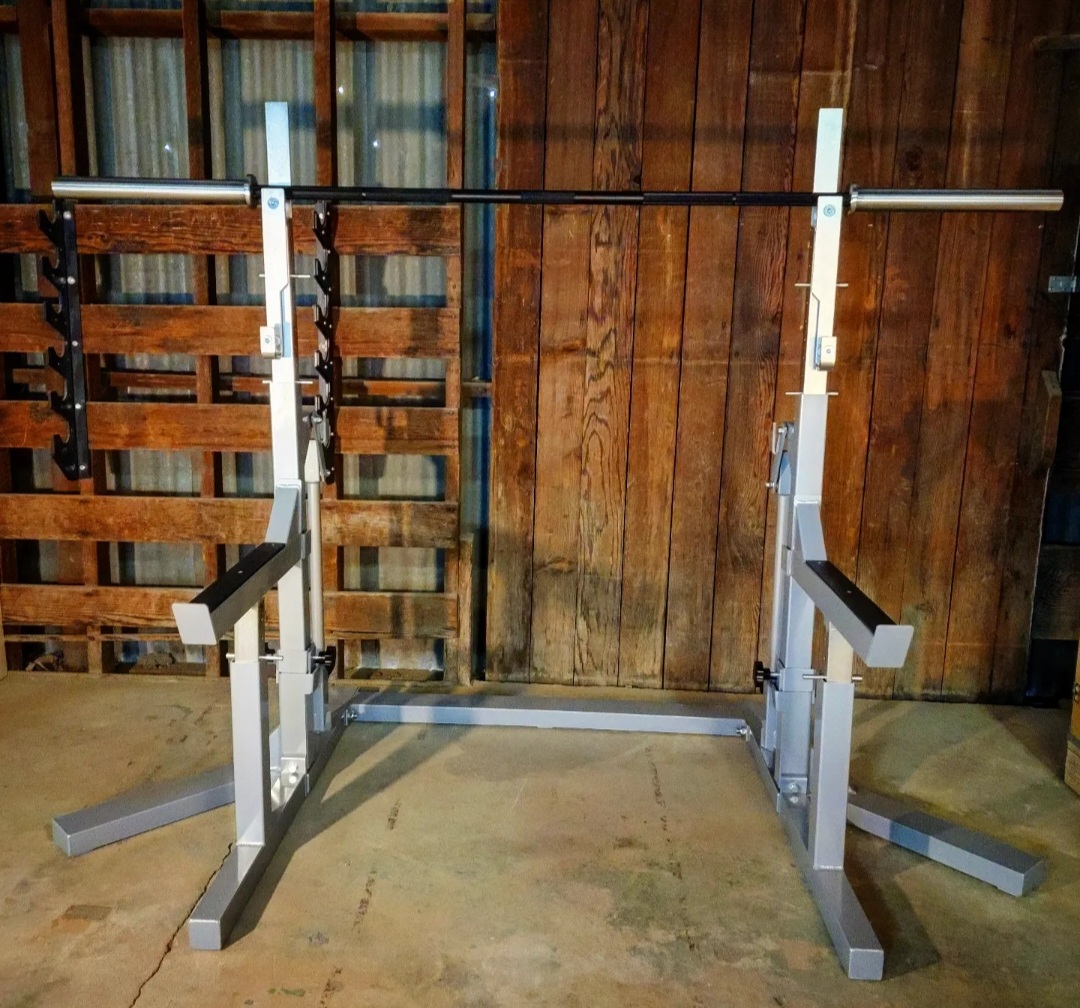 To further accommodate lifters the Combo Rack's uprights can be positioned straight up and down or can be easily and quickly adjusted to lean inward 5 degrees. This enables larger lifters to put their hands on the outside of the J-Cups while squatting accommodating wider grip lifters.
This combo rack was designed for basic training, professional and competition use. The squat rack accommodates lifters with both narrow and wide stance and grips and is made in accordance with all international competition (IPF) standards.
The SportKraft Deluxe Powerlifting Combo Rack is made with a heavy structure and thick steel. The uprights feature laser cut numbers and are made with stainless steel as are the safety pins.
The spotter stands are set up so they are secure onto the uprights which prevents accidents from the bar falling between the stands and uprights.
You want the best in the game? Go heavy with our SportKraft Extreme Power Bar!
SportKraft Deluxe Powerlifting Combo Rack – Specs :
Uprights with easy to change rack height with 1″ spacing
Laser Cut Numbers on the Uprights
Laser Cut Numbers on the Safety Spotter Stands
Uprights Tilt Inward and Straight Up and Down to Accommodate Wide and Narrow Grip Squatters
Uprights come with two sets of J hooks, one set for benching and one for squatting
J Hooks come with rollers so bar can be easily centered
Removeable Bench with Diamond Tread Spotter Decks
No Tools Necessary for Removing and Attaching Bench
Fully made with IPF Standards