SportKraft EZ Curl Barbell
$114.90 – $139.99
SportKraft EZ Curl Barbell is our take on the classic. With an EZ Curl barbell its easy to target different muscle groups all while reducing stress on the wrists.
Description
SportKraft EZ Curl Barbell
Free Shipping
A classic staple, an EZ Curl Barbell is an essential piece of equipment in any gym. Reduce strain on your forearms and wrists while still getting in a ton of quality work. The sky is the limit  when it comes to exercise selection. EZ Curl bars make its easy to target all different muscle groups including your biceps, triceps, lats, delts, abs and even lower body.
No need to worry about this bar being too soft. The grippy knurling helps you get the hold you need to perform any movement without slipping.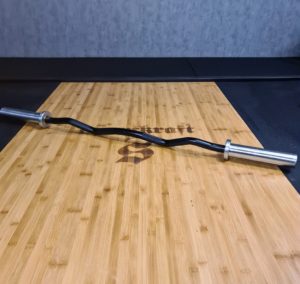 The shaft is bent to help reduce stress on your wrists and provide a comfortable and natural grip position. The curves in the shaft provide a perfect position for narrow grip work to attack triceps and narrow bicep curls – because lets be honest, who doesn't want more defined and stronger triceps? Hello big bench press.
Made with solid steel and smooth spinning sleeves you'll have no problem hammering your biceps with this bar… and everything else.
Need Collars to keep your plates secure? No Problem!
Check out our add on Spring Collars option in the drop down to keep your plates on the bar and the gains coming!
Do you need some Cast Iron for your EZ Barbell Gym Set up? Check out The SportKraft Curl Package to bundle and save on an EZ Curl Barbell, Spring Collars and Cast Iron Weight Plates!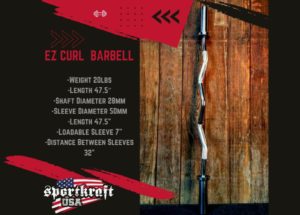 SportKraft EZ Curl Barbell – Specs :
Weight 20lbs
Length 47.5″
Shaft Diameter 28mm
Sleeve Diameter 50mm
Loadable Sleeve Length 7″
Distance Between Sleeves 32″
Want to add more specialty bars to your collection? After taking it EZ on your forearms and wrists with you new EZ Curl Barbell. Put them to work your next upper body day with the  SportKraft AXLE BARS and gain serious Grip Strength!
Additional information
| | |
| --- | --- |
| Color | Original Chrome, Red, Black, Pink |