SportKraft Folding Wall Mount Squat and Power Rack
$619.90
SportKraft Folding Wall Mount Squat and Power Rack saves space without sacrificing quality. Featuring heavy duty 9 gauge steel and laser cut numbers for ease of use and extreme durability.
In stock
Description
SportKraft Folding Wall Mount Squat and Power Rack
Free Shipping
SportKraft Folding Wall Mount Squat and Power Rack  is a great option for home gym owners, garage gym owners and commercial settings for saving space while simultaneously having a quality rack in which to complete all your workouts. This rack is great for areas with limited space. When you are finished with your workout it can be easily folded against the wall using a pin and hinge system. Store folded and out of the way or leave it set up ready to go depending on what you need!
Enjoy the functionality of a power rack without the commitment of taking up too much area in your space.
In true SportKraft style we took it to the next level when it comes to durability. Our Folding Wall Mount Squat and Power Rack is as heavy duty as they come made with 9 gauge steel – Making it one of the thickest Half Racks you can find on the Market!
The full 3×3″ uprights with 1″ holes makes it possible to accommodate most rack standard size rack attachments. This opens the door for an unlimited amount of possibilities when it comes to customizing your workouts.
Keeping the theme with maximizing space this rack includes a pull up bar in which you can easily adjust the height.
The pull up bar can also be used as a great place to attach SportKraft Resistance Bands for tricep pushdowns, rows, face pulls, etc. You can also move the pull up bar up and down easily to use for push up variations and even inverted rows.
The uprights feature laser cut numbers making finding your rack heights super simple and fast. Laser cut numbers make it easy to set your J-Hook height week after week for all of the different variations you will be doing in your SportKraft Folding Wall Mount Squat and Power Rack.
The rack comes with a pair of sturdy plastic lined J-hooks and mounting hardware so you have everything you need to get your new workout routine started immediately. The black finish gives your rack a clean and polished look that will go with any setting. Save space and get strong with SportKraft Folding Wall Mount Squat and Power Rack!
Need a bar and bench press to go with your new rack? Check out SportKrafts line of Adjustable Bench Press and  Powerlifting bars!
Add on a Pair of Spotter Arms to Complete Your Rack Today!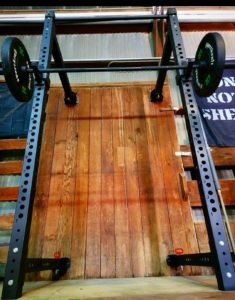 SportKraft Folding Wall Mount Squat and Power Rack – Specs :
Height – 90″
Width – 48″
Depth – 41″
  Hole Spacing 2″
Hole Diameter 1″
Made with the Ultimate Heavy Duty 9 – Gauge Steel!
Includes 1 Pair of Plastic Lined J-Cups
Easily Adjustable Pull-up Bar
Folds against wall for easy storage
Saves space without sacrificing quality
Uprights Feature Laser Cut Numbers
Color – Black
 Compatible with Most Standard Rack Attachments