SportKraft Hardcore Powerlifting Barbell
$430.00
SportKraft HardCore Power Barbell checks all the boxes when you want the ultimate top quality barbell with innovative features for heavy training and competition use. 
In stock
Description
SportKraft Hardcore Powerlifting Barbell
Free Shipping
SportKraft HardCore Powerlifting Barbell is one of the world's most heavy duty and highest quality power barbells.
SportKraft HardCore was Krafted for strenuous and heavy use. This bar is your selection for top quality, aggressive handling, heavy training, competitive training and competition use while still being an appropriate selection for garage gym warriors alike who want extreme quality.
HardCore is for facilities and home gym owners that want to offer the very best and for lifters whose workloads are for competitive and heavy training.  

SportKraft powerlifting bars have been tested in competition and training alike, including 880lb+ bench presses, deadlifts and squats. Hardcore Powerlifting Barbell has even been used in equipped bench presses in excess of 1,000lbs and performed well under the pressure. 
HardCore has a staggering load capacity of 2,205lb and is made with the same proprietary steel blend as our HC PRO SQUAT BARBELL AND OUR 30KG XTREME SQUAT BARBELL! 
When you combine the proprietary steel blend and the full 29mm shaft it means it can handle almost any weight with minimal bending, making it safe and fit to use at any level of training or competing. 
The lifting experience is at the forefront of the design process from beginning to the end when it comes to SportKraft Barbells. The Knurling on Hardcore and Xtreme is one of bar's most praised qualities. Hard wearing, deep and grippy, the knurling is as sharp as possible without breaking the skin. We have even had equipped benchers using HardCore and Xtreme give feedback that they didn't even need to use chalk – even with the cerakote coating. 
For the shaft we have selected a Cerakote coating and for the sleeves a hard chrome. Ceramic coating lasts longer than blackening or even zinc, giving the bar's shaft the best possible defense against corrosion, wear and rust while the chrome coating protects the sleeves. Together the chrome sleeves with the black shaft give the bar a sleek and professional look. You don't need to worry about the cerakote ruining your grip on Hardcore. This knurling still grips!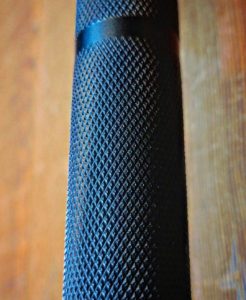 We are confident you can stack this barbell with extreme loads and be surprised how well it retains its form. We recognize the importance of stability when it comes to moving heavy loads and HardCore delivers!  The stiffness and durability make it a great selection for competition use. 
The shorter collars give Hardcore a full 17″ of loadable sleeve! It also means the plates sit closer together. The combination of the full 29mm shaft and the plates sitting closer together results in a more stable load on the bar and … you got it – less bend!
Unbelievable quality for its price, HardCore is arguably the best and economical choice out of all 20kg powerlifting bars. If you want a bar that lasts for decades, rivals any bar found in the world and can satisfy any powerlifting enthusiast's demands, HardCore is your choice!
All SportKraft powerlifting bars are complete with powerlifting knurl marks and a grippy center knurling. The bars comply with IPF standards, complete with 810mm knurl marks. Our powerlifting bars are meant for heavy and frequent competition and training use.
SportKraft Hardcore Powerlifting Bar  – Specs:
Weight: 20kg

Length: 86.56″

Loadable Sleeve – 17″
Narrow Collars for More Loadable Sleeve
Plates sit closer together for a more stable load

Diameter: 29mm

Tensile strength: 220,000 PSI

Load capacity: 2205lbs

Knurl marks: 810mm apart – Powerlifting Standard

Deep aggressive knurling, center knurled

Cerakote-

coating

Self-lubricating bronze bushing