SportKraft Multi-Purpose Bar, Black
$350.00
No matter your goal, SportKraft's Multi Purpose Barbell can help get you there! From powerlifts, Olympic lifts and general training this bar has got you covered!
In stock
Description
SportKraft Multi-Purpose Bar, Black 
Free Shipping
The SportKraft Multi-Purpose Bar is your go-to all purpose bar in the gym. Whether you are training Crossfit, weightlifting, basic gym use or heavy powerlifts, SportKraft Multi-Purpose Bar  is up to the task!
Made with an attractive cerakote finish our Multi Purpose Barbells are made durable and equipped with the best qualities needed for the job. These barbells are true to their name and are meant for training. Multi Purpose Barbells make a great fit to any gym set up and will become one of the most used tools on any gym floor. 
 Combining the best of all worlds of weight training, this all in one barbell features traditional weightlifting standard rings (910mm) and powerlifting rings (810mm) and even has center knurling for squatting.
Instead of the traditional bushing and unlike many other multi-purpose bars on the market, our Multi-Purpose Barbell is complete with a competition level needle bearing system, comprising of 8 needle bearings. This provides excellent sleeve rotation and makes this bar great for fast lifts, such as clean jerks and snatches.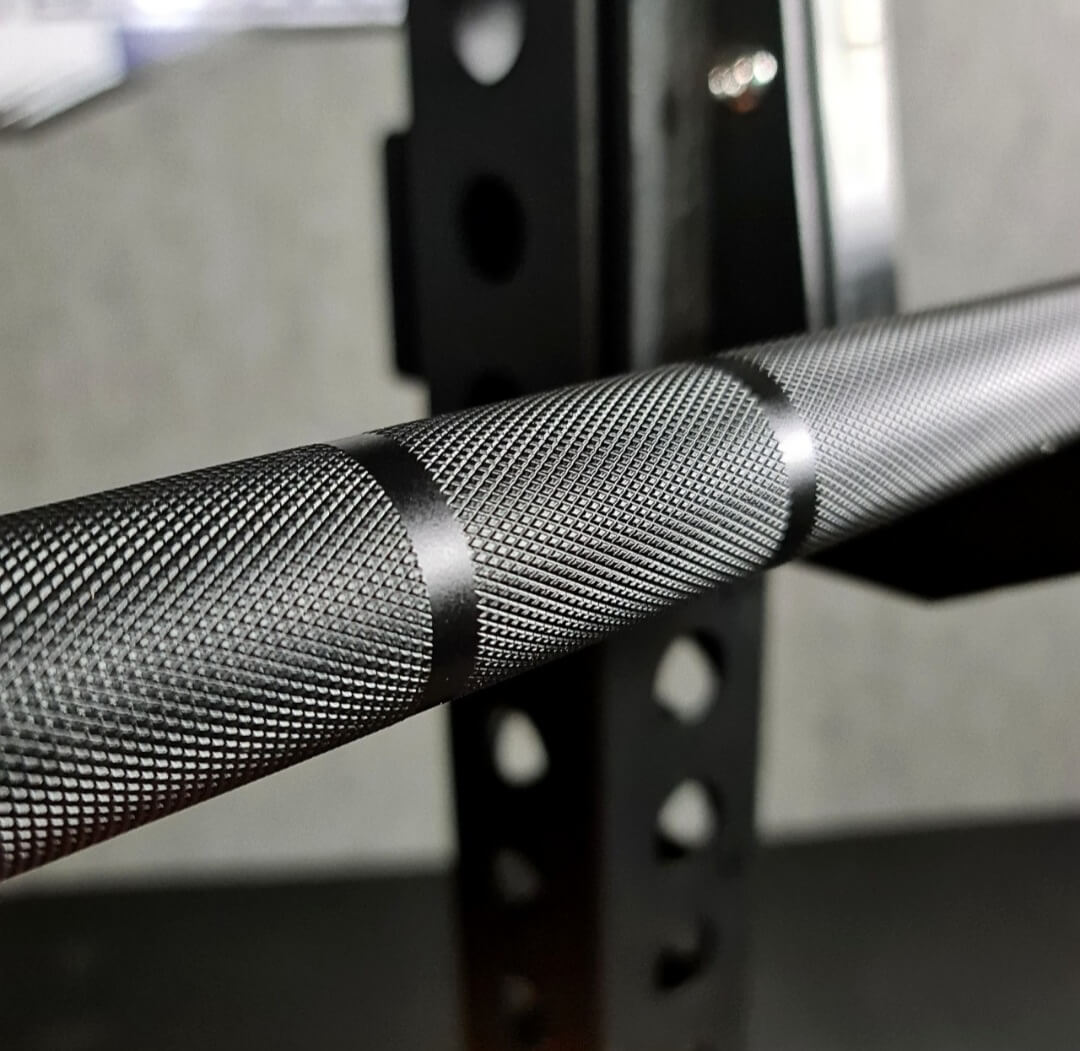 The steel alloy that has been chosen has a rigidity between weightlifting and powerlifting bars. This provides an elastic quality to withstand endless dropping and enough wip for your functional exercise, yet still making the bar rigid enough for heavy squats, benches and deadlifts.
The tensile strength of 210k PSI and a loading capacity of 700kg (1543lb) gives this bar a high level competition standard, and durability will be proven by how long this bar lasts with continued use.
For the knurling on this bar we went for a medium depth diamond textured knurling. This knurling allows for sufficient grip on powerlifts while still allowing for the right amount of grip when performing olympic lifts.
The SportKraft Multi-Purpose Barbell features a Cerakote coating which is the best material on the market to protect against corrosion and wear, providing far superior protection compared to a common zinc coating. An added benefit of Cerakote is that you have the option of different colors!
Stand out from the crowd, have fun with your workouts and make your gym and training videos pop with the SportKraft Multipurpose Bar in Black!
SportKraft's Multi-Purpose Barbell is available in three different colors: Blue with black sleeves, Red with black sleeves, or Black with black sleeves. Find your favorite color and enjoy unsurpassed quality and longevity in your new all in one SportKraft Barbell.
Also check out this bar in BLUE and RED!!
SportKraft Multi-Purpose Bar – Specs:
Weight: 20kg 

Length: 86.6″

Diameter: 28mm

Tensile strength: 210,000 PSI

Load capacity: 700kg (1543lb)

Multi-purpose training

Center knurling

Coating:

Cerakote

8 needle bearings

Knurl marks: 910 mm (weightlifting standard) and 810 mm (powerlifting standard)