SportKraft Strong Half Squat Rack
$449.90
SportKraft Strong Half Squat Rack is made with sturdy 2.5 x 2.5″ uprights and the ultimate heavy duty 9 gauge steel! Just because its a half rack doesn't mean it cant be heavy duty! Strong Half Squat Rack is sure to be one of your favorite pieces in the gym.
In stock
Description
SportKraft Strong Half Squat Rack
Free Shipping
Here at SportKraft, we love versatility and variety in our workouts and recognize the importance in having the right equipment for the job. When it comes to compact space saving practicality, durability and functionality – SportKraft Strong Half Squat Rack delivers.
SportKraft Strong Half Squat Rack  is a great choice for a heavy duty space saving rack that is a great bang for your buck.
The thick and sturdy uprights feature laser cut numbers making finding your rack heights super simple and fast. Laser cut numbers make it easy to set your J-Hook height week after week for all of the different variations you will be doing in your SportKraft Strong Half Squat Rack. 
The 2.5 x 2.5″ uprights with 1″ holes makes it possible to accommodate most rack standard size rack attachments. This opens the door for an unlimited amount of possibilities when it comes to customizing your workouts.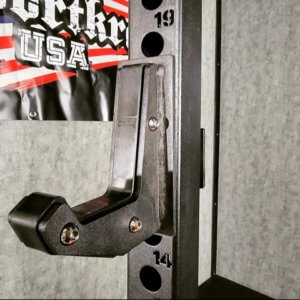 For a compact half rack you are covered for many workouts and movements. The thick steel construction makes it a safe choice for heavy squats and presses. Throw in one of our bench presses or adjustable benches and train your bench press from all different angles.
The rack features a bar at the top made for pull ups. Its also a great place to attach SportKraft Resistance Bands for stretching and strength movements such as banded triceps pushdowns.
Just because its a half rack doesn't mean its not heavy duty. In true SportKraft Style we took our HardCore Half Squat Rack to the next level when it comes to durability. This half rack is as heavy duty as they come and is made with thick 9 Gauge Steel – Making it one of the thickest and most durable half racks you can find on the market!
The rack comes with a pair of sturdy plastic lined J-hooks and hardware so you have everything you need to get your new workout routine started immediately. The black finish gives your rack a clean and polished look that will go with any setting.
Add on a Pair of Spotter Arms to Complete Your Rack Today!
SportKraft Strong Half Squat Rack – Specs
Stable and Space Saving
Weight 110lbs
Height 84″
Depth 35″
Width 47.5″
Sturdy 2.5 x 2.5 " Uprights
Made with the Ultimate Heavy Duty 9 – Gauge Steel!
Uprights Feature Laser Cut Numbers
Includes 1 Pair of Plastic Lined J-Cups
Features a Pull-Up Bar
Safe and Sturdy – Made to Withstand Heavy Weight
Safety Arms Available for an Additional Cost
Additional information
| | |
| --- | --- |
| Safety Arms | Without Safety Arms, With Safety Arms |