SportKraft Training Sandbag – Fit 25-75lbs
$75.90
SportKraft Training Sandbag -Fit 25-75lbs is seriously heavy duty – Made with reinforced seams, handles and durable military grade cordura fabric! Build strength and endurance all while adding versatility to any training program!

In stock
Description
SportKraft Training Sandbag – Fit 25-75lbs
Free Shipping
SportKraft Training Sandbag – Fit 25-75lbs is made with the best military grade 1050 cordura fabric!
Add great versatility and functionality to any training program!
These sandbags are handmade from start to finish and are extremely durable. Fit 25-75lb is made for basic training for athletes of all sizes. The weight can be adjusted from 25lbs up to 75lbs.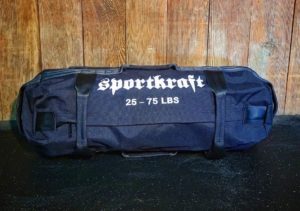 Sportkraft FIT comes with 2 inner bags. One large and one small and they can be filled with the material of your choice including sand, crumb rubber, rice, pea gravel, etc.
Made with reinforced seams and handles these sandbags are made for hard and heavy use!
Fit has 8 handles which allows for different grip combinations, variations and movements to keep your training functional, effective  and fun.
The handles are extremely tough and durable made with the same fabric as a seat belt. The inner bags are made with the same military grade cordura fabric and are equipped with a seriously heavy duty zipper and a strong velcro fastening that prevents your inner filler from leaking out
Looking for something heavier? Check out our SportKraft Training Sandbag Athlete 50-125lbs!
SportKraft Training Sandbag – Fit 25-75lbs – Specs:
Military grade 1050 cordura fabric
Reinforced seams and handles
3 Sizes Available
Purchase Includes Inner Bags
Zipper and Double Velcro Closure
Sand not included
Size 25.9 x 15.7 in
Seriously Tough and Made To Last