Strong 80lb Adjustable Dumbbells
$835.90 – $980.90
Strong Adjustable Dumbbells – do it all! These space savers offer a huge range of weight from 5 to 80lbs. Made with real machined plates and a sleek design this is an investment that is sure to yield high returns for years to come.
Description
Strong Adjustable Dumbbells
Free Shipping
Adjustable Dumbbells are the ultimate solution when you want to move weight but don't have the space.
Dumbbells are one of the most essential workout tools and are an absolute staple in any gym setting. But when you've got the drive but don't want to commit to entire dumbbell racks and  taking up an entire wall of space, well…. you've got a problem – enter the adjustable dumbbell!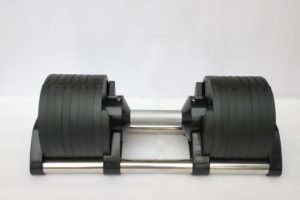 You can fit an entire rack of dumbbells into this ONE DUMBBELL – and it ain't no joke. This Adjustable Dumbbell gives you a huge range of weight options from 5lbs all the way up to 80lbs Per Dumbbell! That's 160lbs sitting in one convenient set leaving you with plenty more room for activities.
These ain't the old clunky adjustable dumbbells we had in highschool and college with the old dial. This updated sleek design is made with real machined weight plates and has a clean modern look that looks killer in any weight room, bedroom, garage gym, living room … shall we go on?
The Straight Handle Design is ideal as you move up in weight allowing you to have a strong hold on your grip. Once you use straight handle dumbbells for your heavy sets you will never want to go back! If you know you know. . .
Adjustable by 5lb increments these Dumbbells run the gamut as far as covering all your workouts. From light volume to max effort reps these are your go to space saving solution.
Get strong and fit with the Strong Adjustable Dumbbells!
Complete your Gym Set up with the SportKraft Basic Barbell. Perfect for all users and all types of  movements! 
Strong Adjustable Dumbbells Specifications:
Adjustable from 5lbs – 80lbs
Straight Handle Design
Sold in Pairs
Sleek Black Finish with Grippy Silver Handle
Add on Rack Option
Space Saving
Additional information
| | |
| --- | --- |
| Options | Strong Dumbbell Pair, Strong Dumbbell Pair with Stand |